Delivered yesterday. Damn, it is a sexy looking blade. Blade made out of the Crucible CPM S35VN steel, one of the few steels actually designed for cutlery. Titanium handle is very well made and feels really good in hand. Decent sized folder too. Framelock, again... I'd much rather have axis or button lock on it, but what can I do, framelock it is. Although, a very well made framelock, with steel lockbar and all that. Pix and review coming soon.
Thursday, January 18, 2018 21:23:46
Hit 30 mil. milestone on the knife steel chart :) Not sure how many hits inside mobile apps, but still, it is significant.
Wednesday, January 17, 2018 18:29:38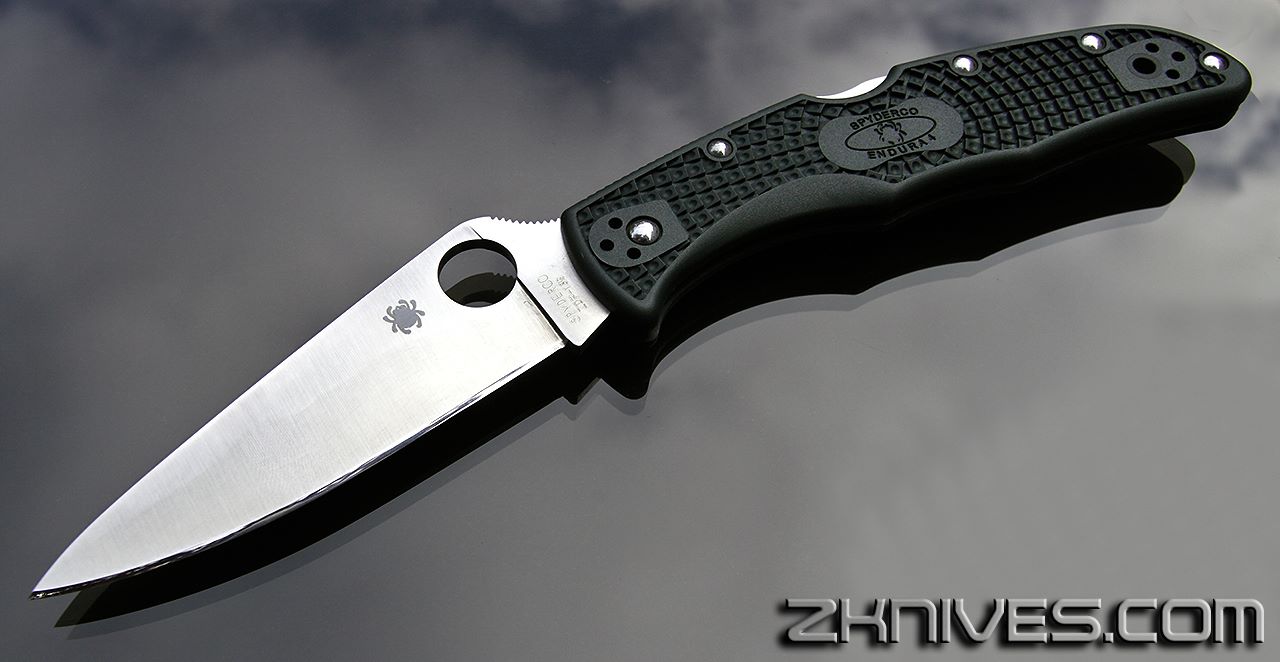 The other day remembered I was still looking for Aluminum or Titanium handle slabs for my Enduras, yeah, now I got two, the first one in ZDP-189 steel and another in Hitachi HAP-40 steel. Unfortunately, only blue anodized ones were on sale, so I got a pair for both, same color or not, Al is way better than factory FRN, which is lightweight and durable but neither looks nor feels good. Now the installation was a chore. Spend well over an hour to put the knife back, in other words got stuck until I looked at the video on youtube. Lock bar pin is the last component to be inserted with its pin. Still, not that easy, but the result is very good. Feels like a new knife and overall, it's way better look and feel.
Tuesday, January 16, 2018 21:44:19
Fixed bookmark export error on Android OS version 7 and above.
Tuesday, April 25, 2017 22:38:22
Fixes some of the issues with synchronization and a random db corruption.
Tuesday, March 21, 2017 23:08:35
Fixes a crash when tapping more button, iOS 10 specific.
Reworked all views to support all device sizes correctly including iPhone 7/7+.
Misc. performance optimizations.
Latest database snapshot.
Thursday, September 29, 2016 23:31:06
Reader comment received, did additional search, posted more precise composition.
Monday, September 26, 2016 21:38:28
Low alloy, high Carbon steel. No longer produced, from what I was able to find out was in production in 1970s. One of the producers was Bohler. Few tons are still available for knifemakers, which is a plenty of knives, Achim Wirtz has some for sale as fr as I know.
Wednesday, August 17, 2016 22:19:15

One more custom knife from Shiichi Watanabe. A present for my friend's birthday. I did get to play with it, and aside from its really gorgeous looks, the knife has extremely good cutting performance. Simply put, pleasure to use, on top of pleasure to look at. I'll be getting one like that too.
Monday, April 11, 2016 23:06:54