Few months back in one of the hard trance mixes on the youtube, discovered Jurmingander by ConnecteD, absolutely loved it. Tried searching for more of the same, all I managed was the original mix form his album Ragnarok. Dunno how did I miss it the first time, but now I found his own youtube channel, and loving it. If you like hard/dark trance you owe it to yourself to check it out :) Follow the link in the header for pure awesomness.
Monday, July 30, 2018 18:37:46
It's been a while, mostly my bad, but to my surprise, Jon from Japanses Knife Imports showed up in my inbox, and he was bearing gifts, in form of the Hitachi ATS-314 steel composition :) I honestly do not recall ever seeing it before, but it's been around for a while, mainly used in scissors and shears. Well, now it made its debut in knives, and JKI does have Ryusen Fukakuryu series knives featuring ATS-134 steel at 61HRC.
Tuesday, March 20, 2018 21:50:25

Got the replacement Endura 4 in VG-10 steel 2 days ago. Started installing Putman Aluminum handles on the new knife and at the same time replaced the blade. Yesterday for about 3 hours was trying to wiggle the damn lock bar pin in place to no avail. Same story today. Finally, blamed the failure on the mismatched lockbar and blade, former from the new knife and later of course my older ZDP-189 steel blade. Took apart the old knife, and put together the new knife, broke old FRN handle slab in process to remove the stripped screw. In short, 2.5 hours later I've finally gotten the lock pin in place on the new knife. Things still didn't go smoothly, not sure why, I'll update the review later on with pix and gory details. In the end, I do have Spyderco Endura 4 with the ZDP-189 steel blade, Putnam Aluminum handle slabs which do give it much more premium look and feel, and a minor scratch on the right handle slab form all the fighting with the lock bar pin. I'm ok with the results, but I did hate the process wholeheartedly :) My fingers are very sore from all the pressing on the sharp corners of the knife and the bar too. In short, lock backs do suck in terms of disassembly and tinkering.
Wednesday, February 7, 2018 22:16:46
Limited edition knife, real looker too. Missed initial release back in 2016, found on BF individual sales forum. Price was good, slightly above the original, but I've seen it go higher too. All in all, good catch and excellent knife. Review coming soon. Rather frustrating and puzzling is the choice of the blade material - Carpenter CTS-XHP steel. I do wish they used something like Bohler-Uddeholm M390 or Crucible CPM S90V or Crucible CPM-S110V or one of the pure Carbon steels like Hitachi Aogami 1 steel. Although, the latter is practically zero chance, folders in non stainless steels are exceedingly rare, for multiple reasons. Well, Carpenter CTS-XHP steel is still a very good steel, although in a knife that is costs ~700$ I'd expect better, but this will do fine.
Sunday, January 28, 2018 23:17:55

Well, replacing the handle slabs on the HAP40 steel Endura 4, so I figured few days later I was up to repeat the procedure for the ZDP-189 steel Endura. Started by unscrewing lock bar screw. And I failed... It would tighten, but unscrewing was not really an option, screw would get stuck after a single rotation. I persisted, and so did the screw. In the end the screw won, when I stripped the hex threads :( Now I have extra pair of very nice custom Aluminum scales for the Endura folder from which I can not remove factory scales. Sending in for the warranty is a drag, will take a while, and this isn't covered by warranty anyway. Opted for doing it myself, ended up buying VG-10 steel Endura, and once that arrives I'll attempt the feat, at least I can remove the blade from ZDP-189 steel knife, i just hope lock and the blade match perfectly, otherwise I have to saw off the stuck screw I guess.
Thursday, January 25, 2018 20:20:13
Got the new belt grinder about a month ago, and I was lazy to set it up properly, just sat there on the table. I don't use grinder often, plenty of stones, so I got away with it, but in the end I had to do it. I prefer my grinder belt moving horizontally, vs. standard vertical setup. Removed homemade stand from the old grinder, attached to the new one, removed couple covers and it's ready to go. Works wonders for grinding initial bevels on the overly thick edges.
Sunday, January 21, 2018 17:58:57
Delivered yesterday. Damn, it is a sexy looking blade. Blade made out of the Crucible CPM S35VN steel, one of the few steels actually designed for cutlery. Titanium handle is very well made and feels really good in hand. Decent sized folder too. Framelock, again... I'd much rather have axis or button lock on it, but what can I do, framelock it is. Although, a very well made framelock, with steel lockbar and all that. Pix and review coming soon.
Thursday, January 18, 2018 21:23:46
Hit 30 mil. milestone on the knife steel chart :) Not sure how many hits inside mobile apps, but still, it is significant.
Wednesday, January 17, 2018 18:29:38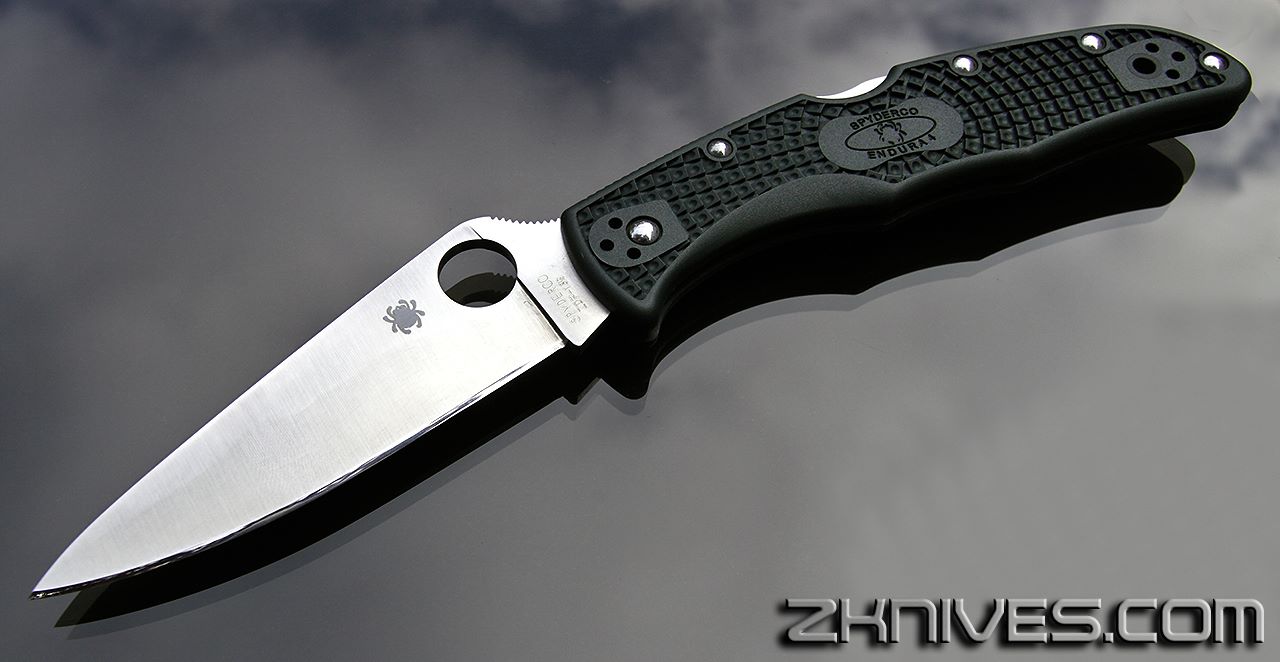 The other day remembered I was still looking for Aluminum or Titanium handle slabs for my Enduras, yeah, now I got two, the first one in ZDP-189 steel and another in Hitachi HAP-40 steel. Unfortunately, only blue anodized ones were on sale, so I got a pair for both, same color or not, Al is way better than factory FRN, which is lightweight and durable but neither looks nor feels good. Now the installation was a chore. Spend well over an hour to put the knife back, in other words got stuck until I looked at the video on youtube. Lock bar pin is the last component to be inserted with its pin. Still, not that easy, but the result is very good. Feels like a new knife and overall, it's way better look and feel.
Tuesday, January 16, 2018 21:44:19